Welcome to our kennel!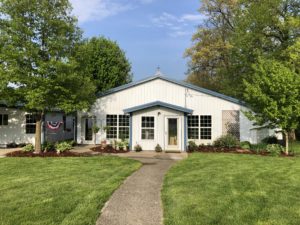 We have had a schnauzer kennel since 1988 and added Schnoodles to our kennel in the spring of 2000.
We do not sell to pet shops or brokers…. only individual families…. our goal is to produce healthy, happy family pets.
Our local vet checks all our puppies. All puppies receive their first 5-way puppy shot at 6 weeks old and if they are still here at 9 weeks to 10 weeks they receive their second set of puppy shots. Puppies and mom are wormed at 2-4 & 6 weeks old we also clip toenails each time we worm the puppies. All of our adult dogs are given a monthly heart guard.
All puppies are micro-chipped at 6 weeks of age at no extra charge to you. Most vets charge from $60 or more for this service. If your pet is lost or stolen and ends up at a shelter or pound, they are body scanned when they are brought there and if you have registered you chip with the national registry when they call them to check who the chip is registered so they will have your name, address and also your vets name and address and phone #'s to call to let you know they have found your pet. Also if you need to be able to identify your pet only you will have his/hers chip # to prove it is your pet. We have had clients that have gotten their pet back because of this chip.
All of our adult dogs are fed meat based dog food. They are given NO table food what so ever. For treats, we use Iams liver treats, baked pig ears, and cow toes, Charlie Bears, and freeze dried chicken. Our bred females are started on meat base puppy food 14 days before their whelping date. They are also given cottage cheese morning and at night, approximately 1 lb each time. Cottage cheese is a wonderful source of calcium and protein. When moms to be have been fed this regiment they have fat, shiny healthy puppies and they have milk like a Holstein cow. I do not like my moms to look like they have had puppies, and by feeding them puppy food & cottage cheese for the 6 to 7 weeks while they nurse their puppies, they are not run down and are in great shape when the puppies are weaned.
We start the offering puppies a meat base dry puppy food at 3 weeks of age along with cottage cheese. Each mother if also fed all the puppy food she would like as this helps give her that extra nutrition to keep her condition, weight and quality of milk up to its peak. We send you home with about 5 lbs of our puppy food that your puppy has been used to. We highly recommend that you keep your puppy on some type of meat base puppy food that is was raised on while here at our home and kennel. We offer 4 different puppy foods you can click this link to ready about them and it will help when you go to choose the type of food you will use at home. If you read the back of the bag IF THE FIRST INGREDIENT IS CORN DO NOT BUY IT, AS CORN IS A FILLER and just gives you more bi-product out the back end of the puppy. Before you bring your new puppy home start doing some comparison-shopping and bag reading. You also do not have to buy the top of the line food. If the first ingredient is meat whether it is chicken or beef and it is a puppy food you will be fine. When you change over to adult food at a year also stay with meat-based food. It may cost a little more than grocery food but your pet will eat less and be MUCH healthier. Even if your vet sells it check the label. Even if you live out of state and we are shipping your puppy to you we still send you a puppy pack box that contains everything you would get if picking up your puppy in person.
We have both sire and dam here of all our pups. When you choose a puppy if it is not ready to leave us yet, you may put a $350 deposit on the puppy to hold it. Our deposit form is shown at the top of this site. Deposits are non-returnable unless for some unforeseen accident would occur and the puppy would die, then, of course, the deposit would be returned, and also if and when during a vet check our vet would find something wrong with the puppy then the client would be told about the problem and given the choice of taking the puppy or canceling the purchase, and in that case the clients deposit would also be returned.
WE DO SHIP PUPPIES NATIONWIDE but only within the USA! Most times you can ship a PUPPY anywhere in the US for $350.00. Shipping includes a crate, Airline ticket and health certificate which is required by the airlines. IF your puppy is a mid size of standard size and is not shipped by 9.5 weeks old and has gotten too large to ship in our standard crates and we have to go larger there is an extra $50 shipping charge as the airlines do charge us more due to weight of crate and puppy so please plan on shipping within the that 8 to 9 week old age range.
WHEN PURCHASING YOUR PUPPY PLEASE make be sure the puppy you pick is the one you want as there is no refund on deposits after the deposit is in and the puppy you have chosen has been moved to the sold page. This deposit signifies intent on the behalf of the purchaser to follow through with the purchase transaction of the puppy that they have chosen. If you see another litter come up and want to change puppies I do not refund the deposit on the first puppy.
CANCELLATION OF YOUR PUPPY ONCE DEPOSIT IS IN AND puppy is on the sold page. I do not refund the deposit for any puppy once the puppy has been marked sold and placed on the sold page. If you have paid for your puppy in full and need to cancel the purchase then I return the purchase price less the deposit.
DEPOSITS FOR WAITING LIST If you are on a waiting list for a puppy and your deposit is in with us and there is nothing in the litter you want once it is your turn to take a pick of that new litter we absolutely return your deposit to you or you are welcome to move it to another litter we are expecting, a litter we may already have or just have it returned to you.
CREDIT CARDS or PAYPAL for deposits or final payments are subject to a 4% fee as that is what the credit cards charge us and we pass that on the client
A great place to get buyer references would be on our facebook page. There are over 4500 of our past clients over the years and please feel free to post any questions you would like to about us, our dog or the kennel. We really appreciate the job our vets do for us and have a great relationship with them, you are more than welcome to contact them if you would like a vet reference. We use Johnstown Vet Clinic the doc's name is Suzanne Terrant D.V.M. (740-967-7387). We do all our spays and neuters at the Animal Medical Surgery center in Coshocton, OH. Kathy Darr is our main vet 740-622.0013. We do respond to all e-mails but you will reach me much quicker by call or text to 740-670-3971