Last Updated on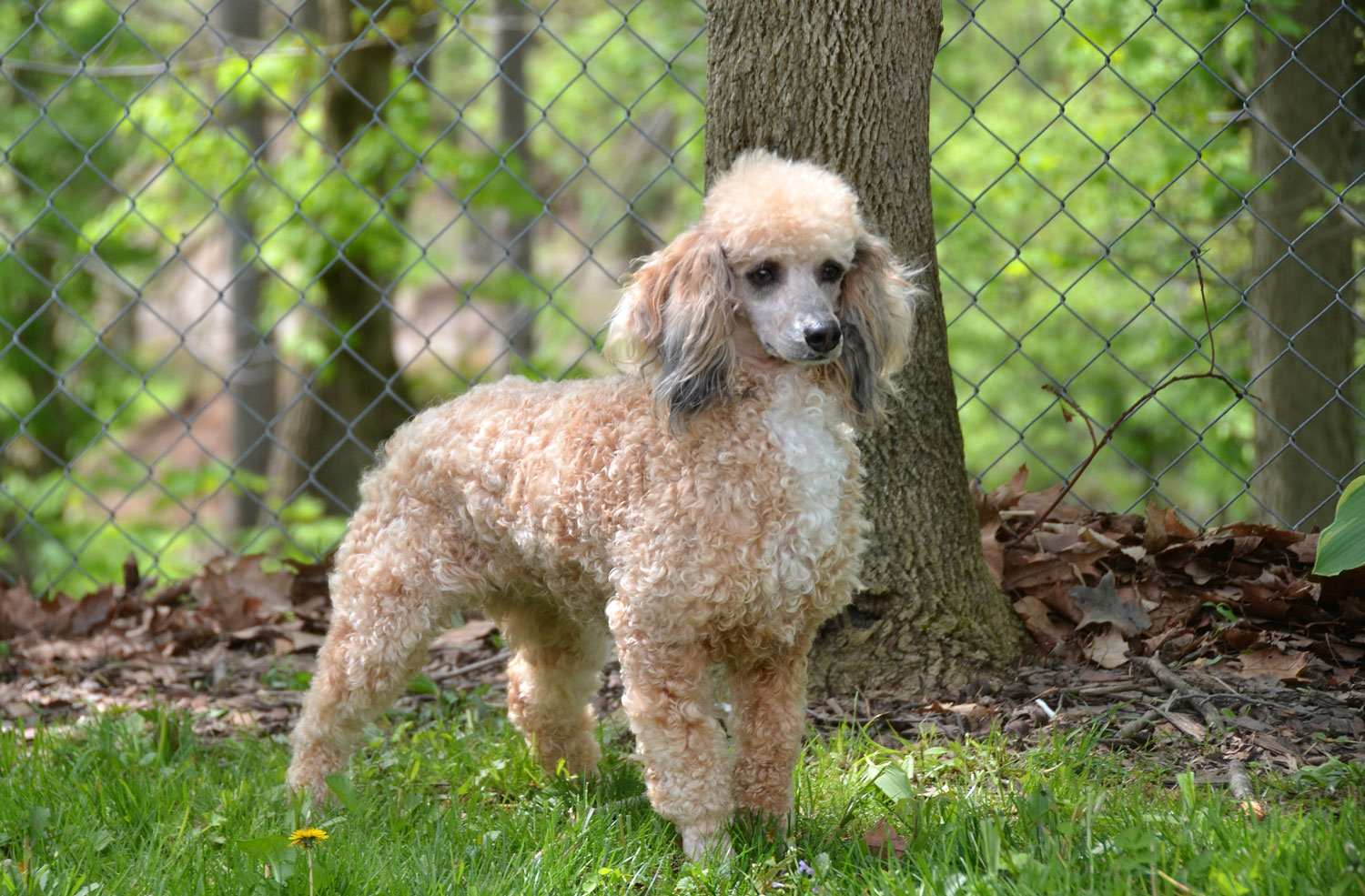 SHAMMY IS STARTING TO SHOW SO THE BREEDING DID TAKE!!
Puppies from this litter are $1450 This upcoming litter will be expected about July 6th
Shammy is an apricot merle miniature poodle that is right at 15 to 16 lb. We purchase her as a puppy along with her sister Roxy who is also a merle. Shammy is very ladylike and absolutely loves to play in the play yard and her favorite game is keep away! She will grab a toy or stick whatever she thinks someone else will want and then it is game on. I have to say I love everything about her except she is not a fan of grooming. Her sister absolutely loves to be
groomed.

Shammy is just a great mom and proved it with her first litter last year. She had 8 puppies with Kevin and they were all blue merle (which was shocking) we have never ever had a litter of all merles. I would not hold your breath this year as it would be shocking if she did it again!! We are breeding her back to Kevin, and yes we are hoping to repeat last year's litter but I doubt it. Kevin is just such a super guy!! He was born here and we had his father Turbo for 9 years and I just love the type of puppies that Kevin produces. Kevin is loving, gentle, never starts a fight and I would love to have 2 more just like him! He is a super personality guy who we all dearly love.
You can see her 1st litter on our YouTube channel. Once their search by her name and it will pull up her litter and you can see the colors she had last time. Also if you subscribe to our YouTube page it will notify you every time I post a video.
Picks of this litter are done in the order you are on the list below. A deposit of $300 is required to hold your spot on this list until born. If there is nothing in the litter once they are born that you are looking for we just simply return your deposit or you can move to another litter we have or a litter we are expecting.
If you would like on the list please just send me an email to puppy@windyhillkennel.com include the following
Name, address, cell #, and the name of the mother you are sending in the email for. Let me know how you would like to do your deposit. You can do it from our site by PayPal or charge card through the PayPal site (there is a 4% fee for a charge card or PayPal so your deposit would be $312). You can send in a personal check for $300 as there is no fee for check and we will hold your spot for 5 days if you send in a check to give it time to get here. Please call if you have questions 740-670-3971
The waiting list for Shammy
1st pick – Jenna France – deposit on file
2nd pick – Celanire Halecki – deposit on file
3rd pick – Ross Sloop – deposit on file
4th pick – Keary Saul – deposit on file
5th pick – Regina Tomazin – deposit on file
6th pick – Alanna Seebauer – deposit on file
I am only going to take 6 deposits that does not mean that is all there will be. You never know she could also have only 2 or 8 again only Mother Nature knows for sure. I will be glad to add you to her to be notified list below with no deposit just in case someone does not take a puppy or there happens to be more than 4
Ellen Cabassa
Lauren Packey
Leah Dennis
Selby Beers
Shammie's mom to this litter
Kevin father to this litter
We are required to collect sales tax on each puppy that is sold and picked up here. If we are shipping there is no sales tax required. Sales tax for Licking county Ohio is 7.25% ($105.12) of the total purchase price of each puppy. Sales tax is calculated on the purchase price of the puppy.
Puppies in this litter are $1450, deposits for all our puppies are $300 which is refundable if there is nothing in the litter you want when it is your turn to pick from the litter. If paying with PayPal or Credit card there is a 4% fee
( Please note that we may not be able to ship puppies in this litter due to the airlines limiting live animal shipments due to Covid-19. We will be shipping again once the airlines reopen to live animal shipping) If you are out of state and need to ship the puppy, shipping is $350. Price includes a plastic shipping crate, health certificate, and airline ticket. Puppies are bathed and groomed before flying to their new home. Puppies must be shipped within 10 days from their spay or neutering otherwise there will be an extra fee of $75 as the health certificate is only good for 10 days and they are issued the day of surgery.
Our Guarantee states that your need puppy needs to be seen by a licensed vet within the first 3 days of going home to make your contract valid, this way you know your puppy is healthy. Please be sure to get that book with your vet at the time you schedule your pick up or ship day with us.
Tails and dewclaws are done at 4 days old – ears are always left natural.
Full 2-year written total genetic guarantee as long as you continue the NuVet vitamins that they are on for the first 2 years of life.
Puppies leave us with age-appropriate shots and wormings along with a full health record for your veterinarian.

All projected sizes of puppies are just that projected. We try to gauge sizes that these parents usually produce but in the end Mother Nature will have the final say.
When you come to pick up your puppy any questions that were not answered on the video's we send you before it is time to pick up your puppy, please jot them down and bring those with you and we will be more than glad to help you with any questions you may still have.
Puppies leave us with pig ear, bell training bell, a stuffed toy that the whole litter has been playing with so they have a sent toy to take home with them.
Tour of our kennel while here and see all our dogs, as well as tour our kennel building where all our moms and puppies are kept until they are 6 to 7 weeks old. Also, take a photo tour on our about us page at the top of the site next to the home page.

(We may not be doing this during the Covid-19 issue)
If we are shipping your puppy to you via the airlines then we will also email you a set of videos covering everything we would have covered with you if you were picking up in person. We also send out your puppy packet to you so you will have it before your puppy arrives at your airport. We will also let you know what brand of food they are eating so you have time to pick that up before they come home. Your health care, spay-neuter paperwork, and microchip form will be located on top of your shipping crate along with a packet of food. We are always just a phone call or text away for anything you may need or questions you may have.

You can see a video tour of our kennels on the about us link at the top of the web site next to the home link. You will find them at the bottom of that page under the information section.
Please be sure the puppy you pick is the one you want as there is no refund on deposits after the deposit is in and the puppy you have chosen has been moved to the sold page.