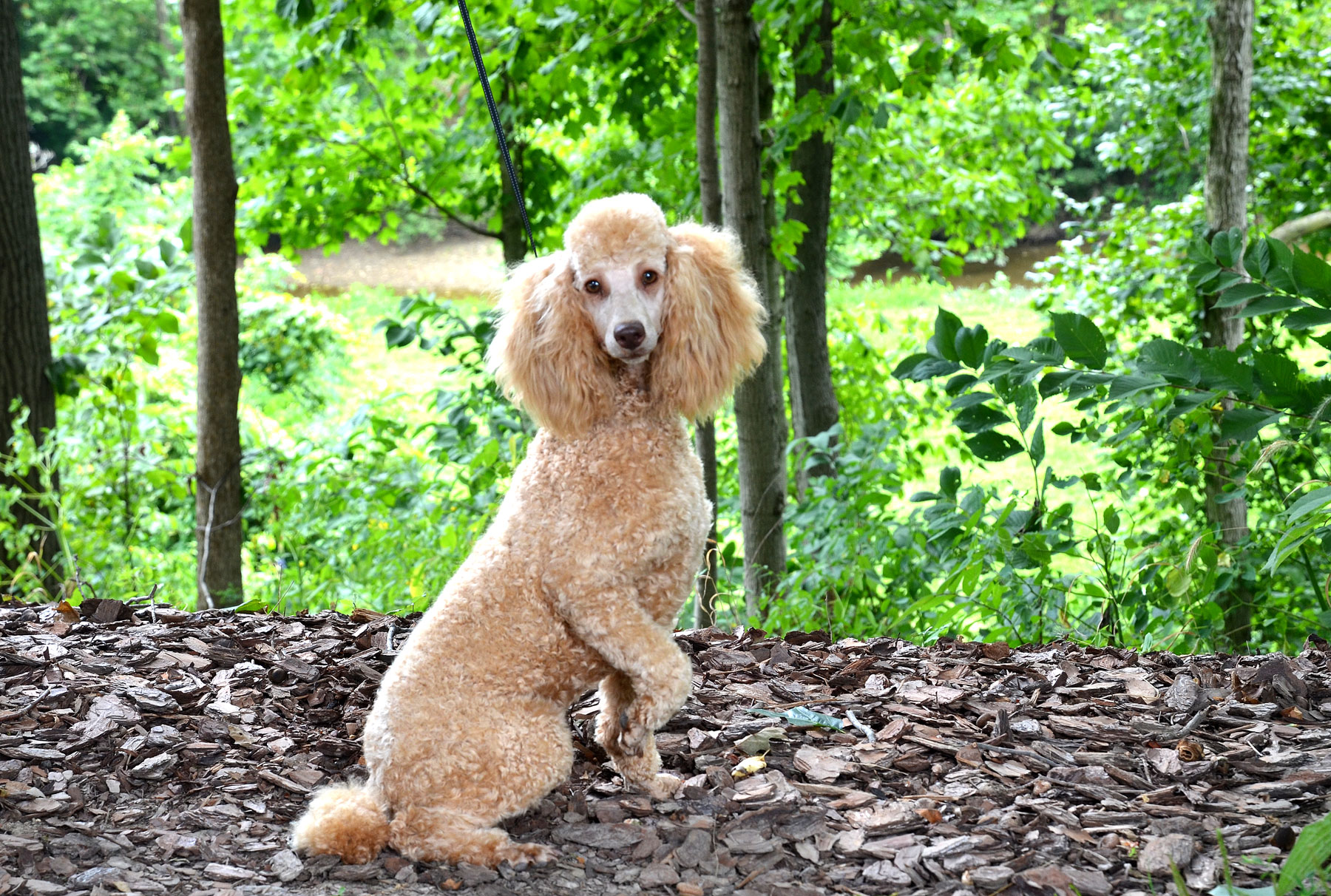 I would like to introduce Peaches! She has just been such a wonderful addition to our kennel. Peaches is an apricot moyan poodle and has great conformation as well as a personality! Peaches is 18 lb with a lush curly coat and outstanding ears! I could have not ever though we would be lucky enough to find a complete package with personality that peaches as, looks and smarts looks and smarts was a huge bonus. Peaches is bred to Hickory and this will be her first litter. You can read more about Hickory on the parents page and you will find him under the gents.
Miniature size Schnoodles 16 to 20 lb in this upcoming litter are $1950.

Deposits are $400 if paying by check or Zelle ( my Zelle acct if my cell # 740-670-3971,

$416 i

f paid by credit card, Venmo or PayPal (there is a 4% fee for credit cards or PayPal).

If you are using Zelle, Venmo my account is just my cell # 740-670-3971. PayPal account is my email address puppy@windyhillkennel.com. If there is nothing in the litter you are looking for then you can move to another litter we have or are expecting.
Waiting list for this upcoming

litter
1. Meredith Stephens -deposit on file
2. Patty Werner – deposit on file
3. Catherine Yeager
4. Simone Majetich
5. Sheryll Perry – deposit on file
6. Scott Louden
7.
8.
We are NOT Shipping at this time due the Covid Shipping is not included in the price of the puppy. We are now using flight Nanny's and ground transport for puppies deliveries. We have been using both of these people for the last year and a half to get your puppy to you safely and quickly. Please feel free to call them for prices and delivery dates. I recommend either one of them they are both great!! Also remember if you would like to fly in and have me meet you at the airport I am always glad to do that also. Our Airport is John Glen International CMH is the airport code.
Flight nanny Dana (407) 970-2730.
Flight nanny Amanda (407) 436-2036
Ground Transport / or flight Lisa Lowery 1 (614) 598-3793
Puppies are sold with natural ears, tails and dew claws are done at 4 days old!

Spay or Neuter's for this litter will not be able to be done as my vet is closing her office for surgeries from 11/23/21 to 1/22/22. her office will only be open for basic service as she is taking a long over due vacation. And yes this was totally unexpected!! 😩
Full 2-year written total genetic guarantee
Puppies leave us with age-appropriate shots and wormings along with a full health record for your veterinarian.

All projected sizes of puppies are just that. We try to gauge sizes that these parents usually produce but in the end Mother Nature will have the final say.
When you come to pick up your puppy any questions that were not answered on the video's we send you before it is time to pick up your puppy, please jot them down and bring those with you and we will be more than glad to help you with any questions you may still have.
Puppies leave us with pig ear, bell training bell, a stuffed toy that the whole litter has been playing with so they have a sent toy to take home with them.

We also have plenty of dog food available when you are here if you wish to purchase a bag of our food to take home that your puppy has been eating. We feed High Standard 32/28.
You can see a video tour of our kennels on the about us link at the top of the web site next to the home link. You will find them at the bottom of that page under the information section.
Please be sure the puppy you pick is the one you want as there is no refund on deposits after the deposit is in and the puppy you have chosen has been moved to the sold page. This deposit signifies intent on the behalf of the purchaser to follow through with the purchase transaction of the puppy that they have chosen. If you see another litter come up and want to change puppies I do not refund the deposit on the first puppy.